Bad Bunny is moving to Chelsea: The New York Post reported earlier this week that the singer had signed a lease on a  $150,000-a-month penthouse on West 27th Street, a 4,500-square-foot aerie with a private outdoor lap pool. But while stratospheric sales prices are commonplace in New York — it can be unnerving how many finance types you've never heard of regularly snap up $10 to $20 million properties — there aren't many rentals over $100,000 a month. The number caught our attention: Is Bad Bunny renting the most expensive apartment in New York City?
Yes, it seems he might be. Several brokers told us that to their knowledge it was the most expensive rental at the time he rented it last week — and that the rapper was actually paying the listed rent. (This was not an influencer deal.) His brokers, Kristina Paces and Celine Coudert de Besson of Serhant, declined to comment.
The apartment wasn't actually listed for rent, either. (The StreetEasy listing seems to have gone up after the lease was signed — to create a record of the rental history.) It's currently on the market for $18.5 million with Ryan Serhant and Chase Landow. But the developer of the Jardim, the condo at 527 West 27th Street where the penthouse is located, was apparently willing to make a deal. For $150,000 a month.
While there are always a handful of Manhattan apartments in the $100,000-a-month-and-up range, few actually rent out for that much. The penthouse at 1 Vandam, by the border of Soho and Hudson Square, is currently asking even more — $175,000 a month — and while it's nearly twice the size of Bad Bunny's new place, it has been on the market for 70 days. (One broker I spoke with dismissed it as "not a great building," with units that are "taking a while to get rid of.")
The Jardim penthouse does have some unusual perks. Besides the apartment's private lap pool, there are sliding-glass curtain walls and lots of outdoor space, in addition to a private driveway for building residents. Kendall Jenner should feel right at home.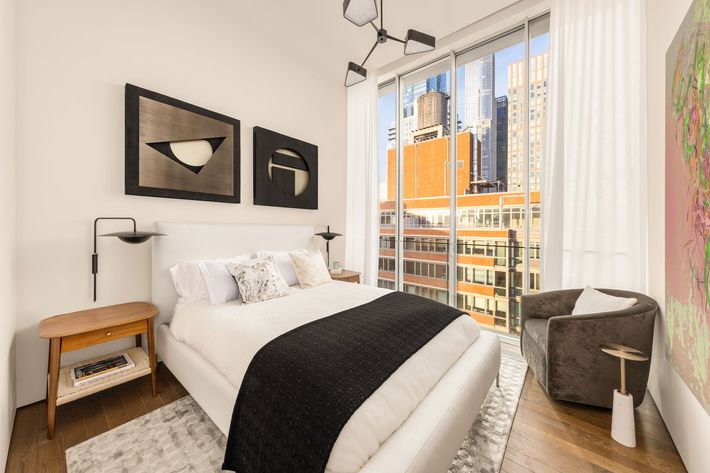 Source: Curbed