A fire aboard a cargo ship docked in Newark, New Jersey, has been contained, officials said on Saturday, three days after two firefighters died while battling the raging blaze.
The fire has been contained on the 11th deck and "is being suppressed and no longer spreading to other areas of the vessel" as of Saturday afternoon, the Unified Command — comprised of multiple agencies responding to the incident — said in a statement.
The 692-foot cargo ship — named the Grande Costa D'Avorio — has also been further stabilized after responders continued to drain water from the lower decks, the Unified Command said.
"The vessel will continue to list between one and two degrees to starboard as a way to accelerate the dewatering process," said the Unified Command, which consists of the U.S. Coast Guard, Port Authority of New York and New Jersey, Newark Fire Department and Gallagher Marine Systems.
Capt. Zeita Merchant, the captain of the port of New York and New Jersey and federal on-scene coordinator, said in a statement that there remains "significant work to do, and challenges ahead," though noted that responders made "considerable progress overnight."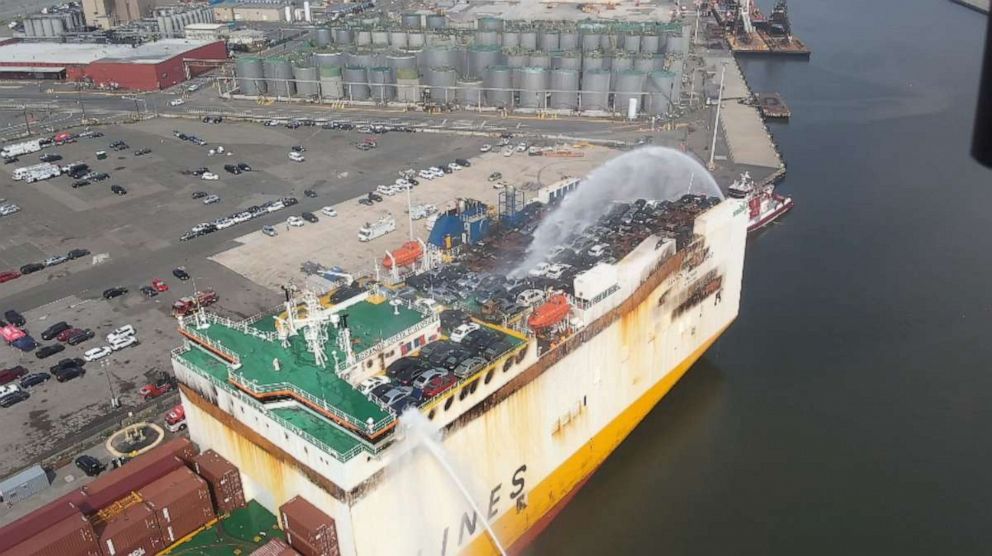 Firefighters were dispatched to the Port Newark Container Terminal on Wednesday at around 9:30 p.m. ET after receiving a report about multiple vehicles on fire aboard the ship. They managed to extinguish the main body of the blaze but the flames had extended to multiple levels of the vessel, according to city officials.
At 10:25 p.m., the firefighters called a "Mayday" after two of their own became trapped inside the burning vessel and were nowhere to be seen. That was followed by a second "Mayday" call 15 minutes later, city officials said.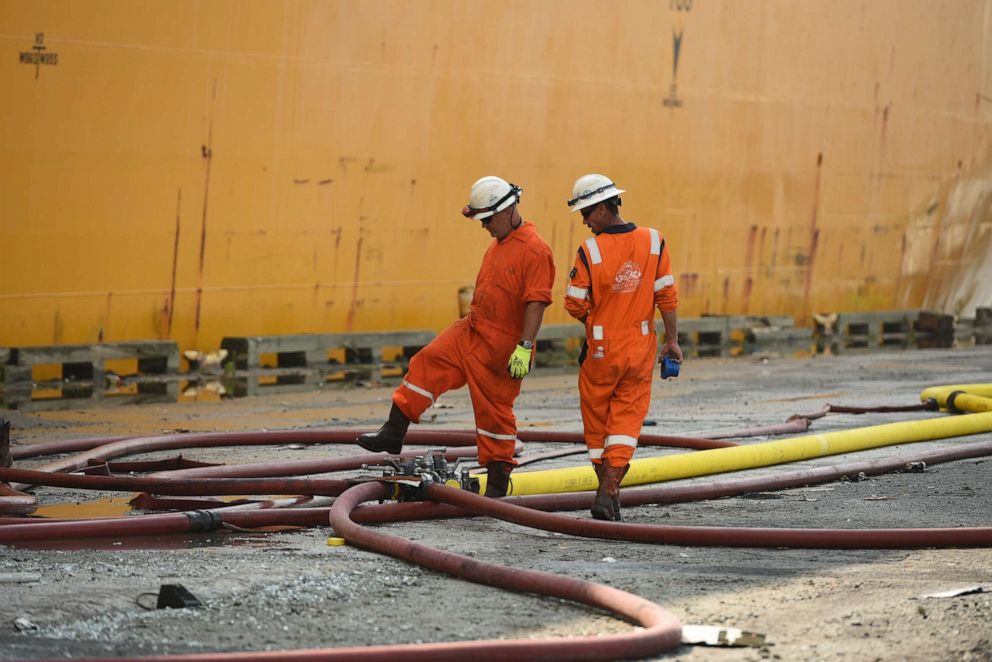 Two Newark firefighters — 45-year-old Augusta Acabou and 49-year-old Wayne Brooks — were ultimately found early Thursday and subsequently taken to a hospital where they both died, according to city officials.
Three other firefighters from the Newark Fire Department as well as two from the Elizabeth Fire Department were injured during the incident, according to city officials.
Each of the Newark fire captains who were injured while fighting the fire has been released from the hospital, according to Newark Public Safety Director Fritz Fragé.
The cause of the fire and what led to the firefighters' deaths remains under investigation.
One of the issues encountered by the firefighters was that their two-and-a-half-inch fire hose lines weren't compatible with the boat's one-inch connections, a source close to the investigation told ABC News on Thursday. Instead, the firefighters were forced to use the fire hoses on the ship, which output less water and pressure than they were used to, the source said.
The New Jersey firefighters also weren't trained to handle blazes that take place on cargo boats, a source said.
Source : ABC News