A manufacturer of Narcan is planning to make the lifesaving overdose reversal drug more affordable after the Food and Drug Administration (FDA) last month approved sales without a prescription.
In a press release, the Maryland-based Emergent BioSolutions said it aimed to reduce the price of naloxone-based Narcan to around $50 per carton. Currently, the prescription nasal spray carries a wholesale price tag of $125 per carton.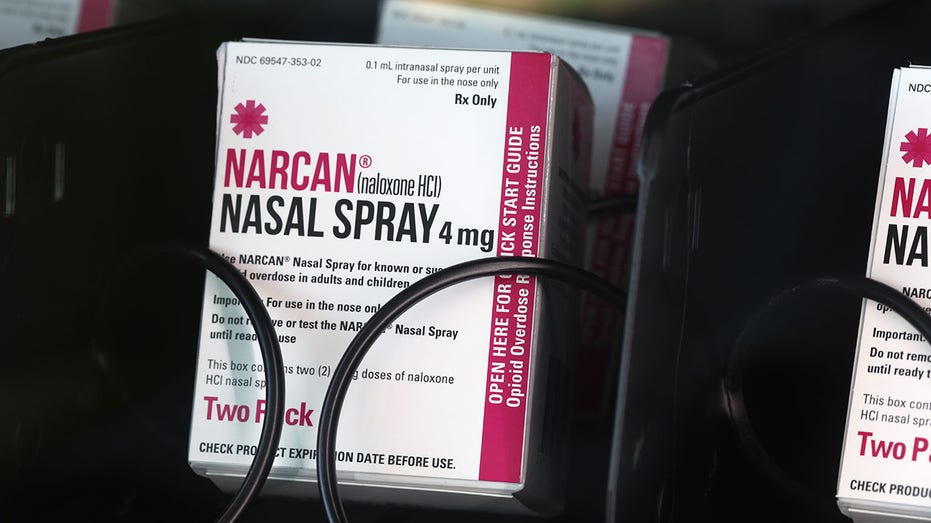 FILE: Narcan nasal spray for the treatment of opioid overdoses is made available for free in a vending machine by the DuPage County Health Department at the Kurzawa Community Center on September 01, 2022 in Wheaton, Illinois. (Scott Olson/Getty Images / Getty Images)
"A goal for the out-of-pocket retailer is to be consistent with our public interest pricing for one carton of 4 mg doses," Emergent said, noting that retail prices are ultimately set by individual retailers.
Emergent acknowledged that maintaining affordability will require collaboration between government leaders, retailers, and other key stakeholders.
"This public health crisis requires more work to be done. Our mission is to protect and enhance life, and we are focused on continuing efforts that will increase awareness of and expand access to naloxone, along with helping to maintain affordability," Emergent said.
The news came after the FDA approved sales of the Narcan without a prescription. The agency said the nasal spray is the first naloxone product approved for use without a prescription.
Naloxone is a medication that rapidly reverses the effects of an opioid overdose and is the standard treatment for opioid overdose. 
The FDA's approval helped expand access to the drug in areas of the U.S. with significant overdose problems and lacking of pharmacies. Still, uncertainty remains around Narcan's final price and whether insurers will offer coverage. 
Source: Fox News