A Florida couple said someone shot at them when they delivered Instacart groceries to the wrong house last week.
"I had seen him pull out a gun and that's when I said, 'We got to go, we got to go,'" Diamond D'arville told WTVJ. "I was scared, I'm not going to lie."
D'arville and her boyfriend Waldes Thomas arrived at the home while trying to find the address of a customer while on the phone with them. The homeowner, a man, demanded to know who they were, then pulled up behind them in his truck.
"He's like, 'Who are you?' and we're saying we're with Instacart," D'arville said. She said that when the man fired, he hit her car several times. 
The couple fled, pulling over about a block away and calling the police.
Thomas was unable to contain his disbelief that the man opened fire instead of calling the police.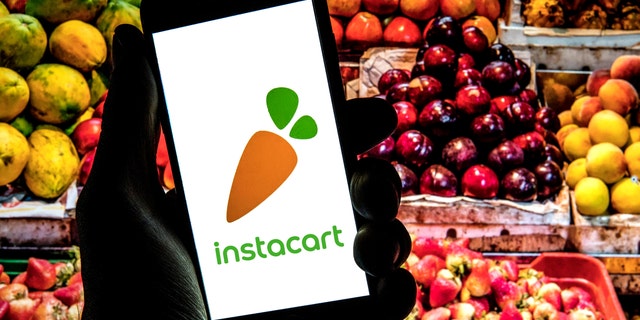 In this photo illustration a Instacart logo seen displayed on a smartphone with with fruits in a market in the background. (Thiago Prudencio/SOPA Images/LightRocket via Getty Images)
"We were there for Instacart, we were trying to tell him, and he went about it the wrong way — instead of just calling police, saying I have trespassers on my lawn, he decided to shoot," Thomas said.
Police of the town of Davie responded to the call and confirmed to local news that a gun "went off" at a home on Southwest 178th Ave. They confirmed that no one reported any injuries, but could not provide more details about the case.
However, D'arville confirmed that she and Thomas tried to press charges, but the police said that because the incident occurred on the homeowner's property, he "didn't break any laws or do anything unlawful." 
"It's just not right — even if you have a gun, I understand you're trying to protect your family, but you don't come outside shooting," D'arville said. "We're telling you what we're here, we're trying to leave and you're blocking us in, it could've just been on our way and they made it bigger than what it was."
Earlier this week, a homeowner in Hebron, New York shot and killed 20-year-old Kaylin Gillis who drove to his home by mistake. Police arrested him and charged him with second-degree murder. 
Andrew Lester, 85, in Kansas City, Missouri shot at a 16-year-old boy, striking him twice, when the boy went to his house by mistake. Ralph Yarl, the boy, was going to pick up his younger brother at a friend's house but went to the wrong address because he forgot his phone at home, his aunt wrote on a GoFundMe page.
A judge issued a warrant and a $200,000 for Lester's arrest, and Lester turned himself in days later. 
Source: Fox News