Eddie Van Halen's iconic red, white and black custom-made Kramer guitar was sold to an unnamed buyer at auction for $3.932 million, blasting past its pre-auction estimate of $2 to 3 million.
The late Van Halen co-founder played the guitar in the rock band's classic 1984 music video "Hot For Teacher" and onstage at shows. Sotheby's set the minimum bid for the lot, which included the "straight jacket and white gloves" worn by Van Halen in the video, at $1.8 million.
In the auction house's listing, the guitar was described as "one of the most iconic guitars of the MTV era as played by the most influential guitarist of his generation."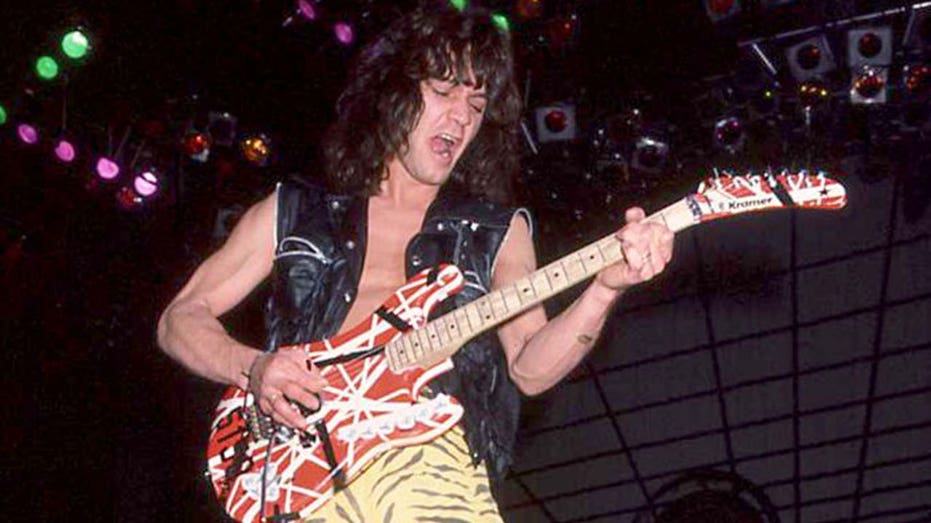 Eddie Van Halen's iconic Kramer guitar sells at auction for over $3.9 million. (Kevin Winter/Getty Images / Getty Images)
The guitar was custom-made by Paul "Unk" Unkert of Kramer Guitars, who penned a letter detailing its history that was shared in the Sotheby's listing.
"The 'Hot For Teacher' Van Halen [guitar] was built by me at the Kramer Green Grove Road Plant in Neptune, NJ around 1982-1985/ #CO176. Look for 'Unk' stamps on Neck and Body. It was my last project for Ed and Kramer," Unkert wrote in the letter that was dated 4/13/05.
The letter was included in the lot along with a signed photograph of Van Halen who wrote, "Is this your guitar or mine."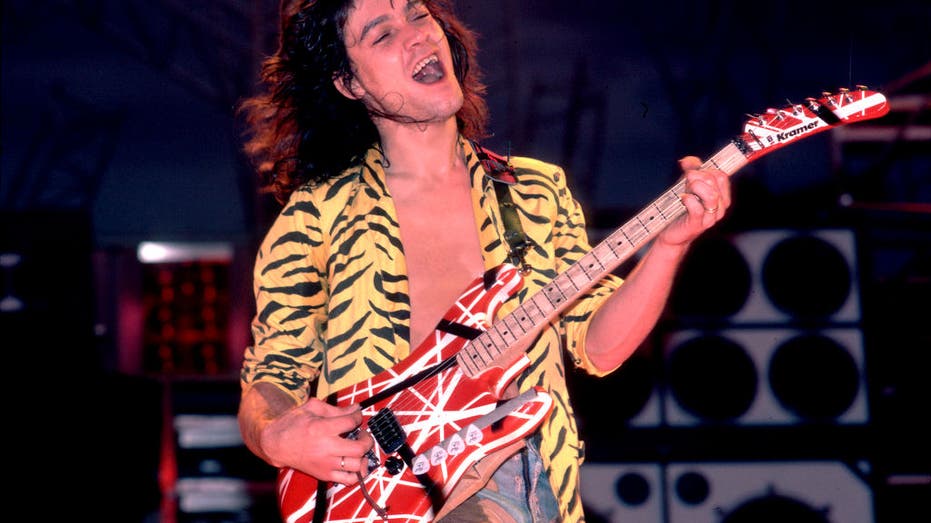 The late Van Halen frontman played the guitar in the rock band's classic 1984 music video "Hot For Teacher." (Paul Natkin/Getty Images / Getty Images)
According to the listing, the guitar has a "poplar double-cut "Strat" style body, the top routed for a single double-coil Seymour Duncan humbucker pickup, volume control, Floyd Rose bridge with whammy bar, unvarnished 22 fret maple bolt-on neck (stamped "UNK" on heel) with Kramer sticker on headstock, unvarnished body and headstock spray-painted with Van Halen's characteristic black and white abstract stripe design on a red ground."
In addition, the late rocker's instrument is "rear routed for the Floyd Rose's three springs and stop, no pick guard or rear cover (as designed), screw holes on the back for Eddie Van Halen's patented flip-up rest (for playing the guitar horizontally)."
The lot also included the guitar's original case with tour and Warner Brothers tags.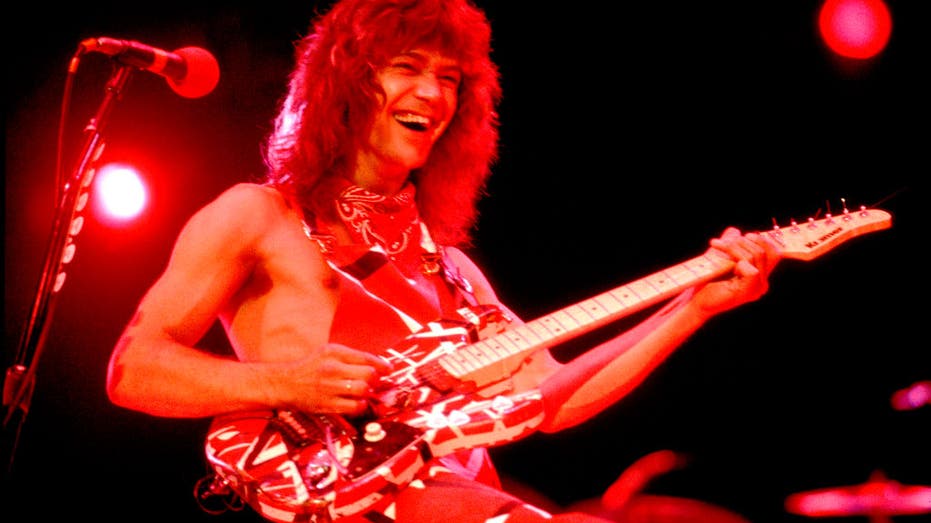 The winning bid by an unnamed buyer far exceeded pre-auction estimates of 2 to 3 million dollars. (Paul Natkin/Getty Images / Getty Images)
Per the listing, the guitar was one of Van Halen's main guitars throughout 1983 and 1984, and he used it up until around 1990, when he gave it as a parting gift to retiring Van Halen drum tech and his close friend Gregg Emerson.
In 1998, Emerson gave the guitar to his nephew Joshua Box. Box sold the instrument to Neals Music in Huntington Beach, California, where it was purchased by its previous owner.
"Hot For Teacher" was the fourth and final single released by Van Halen from their sixth studio album "1984." The band later embarked on a tour throughout the United States and Canada in support of the album. The music video was directed by Pete Angelus and David Lee Roth.
Van Halen died in October 2020 at the age of 65 after a years-long battle with cancer.
Source: Fox News